Petey Wheatstraw: Rappin' & Karate Choppin'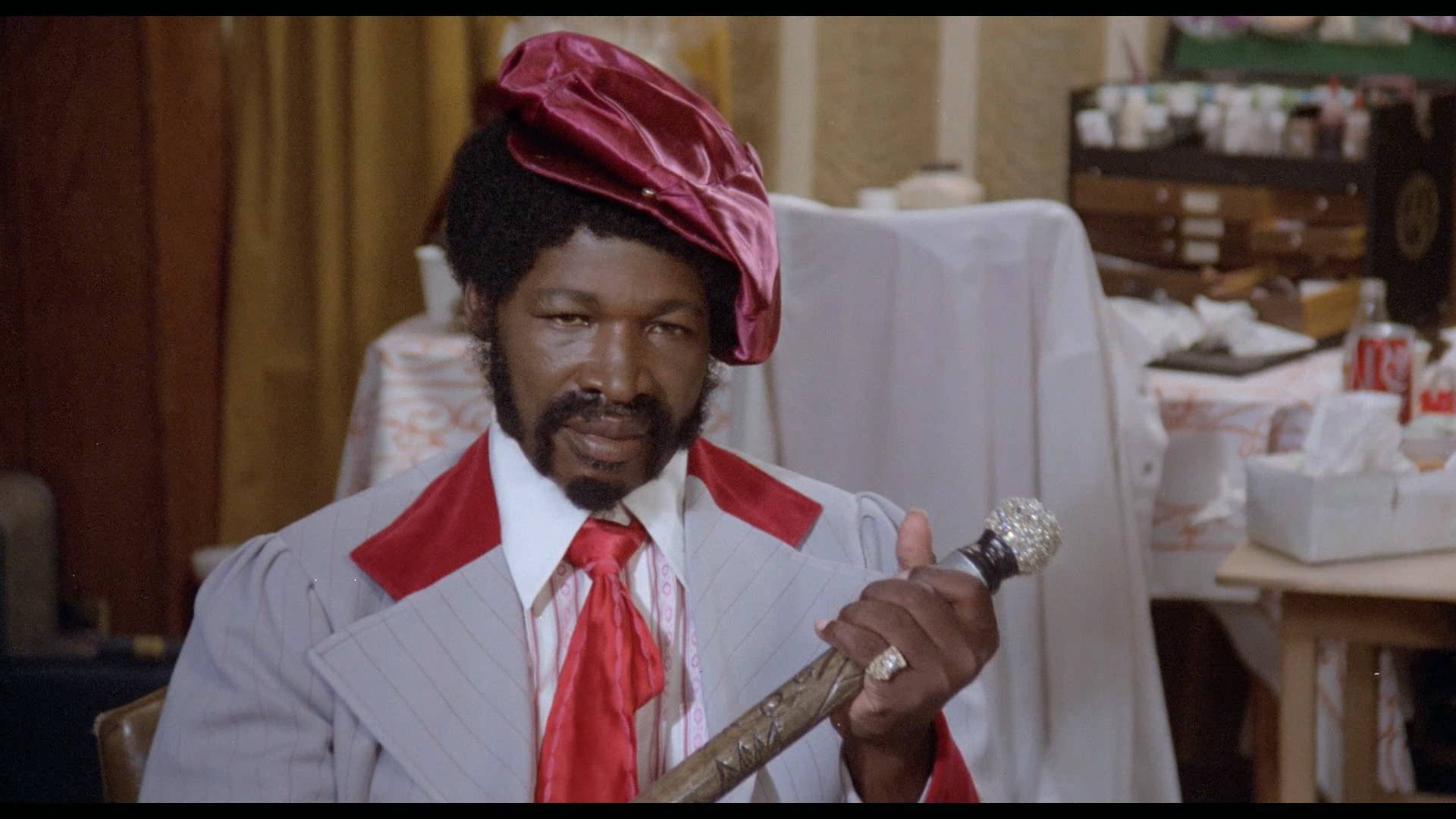 This time it's over. No more heartache and pain. I'm gonna destroy your ass. With your own walking cane.
When no one believed in him, he believed in himself. Rudy Ray Moore invented his own style of comedy, rap and kung-fu that was never done before and can never be repeated.

In the 1970s Los Angeles, Rudy Ray Moore wasn't "Dolemite"—the subject of the Eddie Murphy biopic—he was a struggling comedian who couldn't book a gig. After some initial success with his album, which he had to record and produce himself, Moore was inspired to be a star, a movie star. But in Hollywood, no one saw a place for him and his raunchy style of humor.

So, even though he didn't know anything about film production, he decided to make his own movies. 1977's "Petey Wheatstraw: The Devil's Son-In-Law" is the third of these creations. On Friday, June 26th, at 9:15PM ET we'll be watching and discussing the blaxploitation, comedy, horror film with comedian Donnell Rawlings (of Chappelle Show fame), film critic and director Mike Sargent, and 36 Chambers co-founder Mustafa Shaikh.

"Petey Wheatstraw: The Devil's Son-In-Law" is the amalgamation of everything an untethered Rudy Ray Moore wanted to include. It begins with Petey Wheatstraw birthed as a six-year-old who then slaps his father for "disturbing his sleep." From there, the movie continues with adult Petey's wild antics and encounters with a rival comedy duo and even the devil himself.

On his comedy albums, Moore would spit profane poems over a beat. In his films he rhymes nearly all of his lines. This fresh spoken word expression is why many consider him to be the "Godfather of Rap." The style he created was inspired by what he saw on the streets by artists labeled "Jive Talkers." He brought this street culture to the big screen and the mainstream.

Today, he is considered a cultural pioneer of rap and hip hop. Artists from Tribe Called Quest to Easy-E to 2 Live Crew honor Rudy by sampling his albums and films. Ol' Dirty Bastard pays homage with the Dolemite themed "Baby, I Got Your Money" music video. RZA samples "Petey Wheatstraw: The Devil's Son-In-Law" in "See the Joy" and "Rudy Ray Moore is Dolemite" in "Do U."

Beyond his rhymes, Rudy Ray Moore became a foundational pillar for rap and hip hop because of his persona. "All these things that hip-hop became — the image, the swag, the independence, the sh-t-talking — he was it before it was called hip-hop," Too $hort told TIME. Moore was the original hustler. When he wasn't given any chances, any opportunities, he made his own. He created a confidence and swagger for himself, wrapped it in his film characters of Dolemite and Petey Wheatstraw. And that's rap and hip hop. Making something from nothing.

Now it's your turn. Get your ticket and pay homage with us to this rap and comedy legend.
---
1 comment
---
---